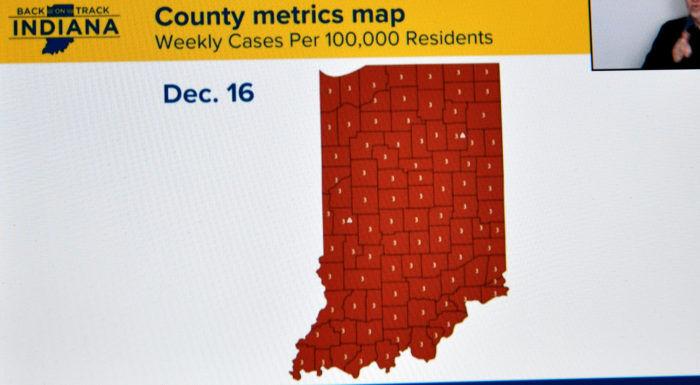 Originally published December 16, 2020 in TheStatehouseFile.com 
Hospitals are worried about "a surge on top of a surge," State Health Commissioner Dr. Kristina Box said Wednesday, as the holidays and deadline for the state to spend federal aid grow nearer and vaccines begin rolling out.
"While this vaccine is the light at the end of what's been a very long, dark tunnel, it will still be a number of months before we can make vaccine available to every user who wants it across our state," Box said at Gov. Eric Holcomb's weekly COVID-19 briefing. "That means we will still need to wear masks, maintain social distancing and stay home if you're sick."
According to the Indiana State Department of Health dashboard, only 11.2% of intensive care unit beds are available. Nearly half of the intensive care unit beds are taken up by patients without COVID-19, but 3,192 Hoosiers are currently hospitalized with coronavirus. While this number is lower than the 3,460-patient peak on Nov. 30, Box said the current numbers are deceptive and can change quickly.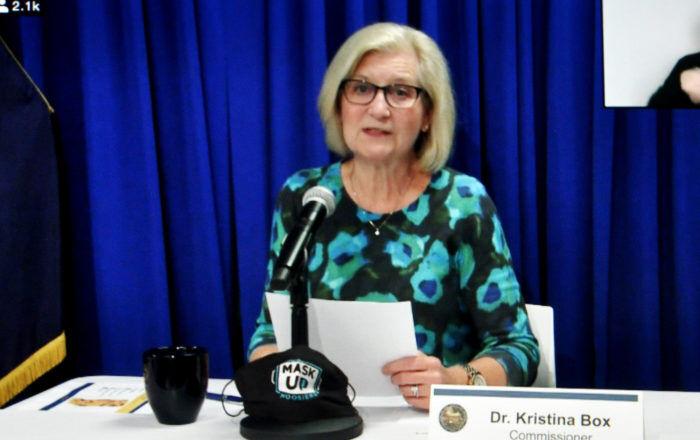 On Wednesday, the state reported 6,283 new positive cases and 125 new deaths from COVID-19. This brings the total since March to 440,850 and 6,781 deaths. The seven-day positivity rate for Indiana was 12.5%.
Ten counties on the ISDH color-coded map changed from red, the color that indicates high community spread, to orange, indicating moderate to high community spread. The counties will have to abide by the tighter restrictions that come with red classification for one more week to show that the trend isn't temporary.
Contact tracing remains an important way for state health leaders to understand the pandemic, and to help increase the number of respondents, Box said contact tracing interviews can now be done on a website, rather than by phone or text. The link will be included in texts sent to individuals who have contracted the virus. Box said the website posed no additional cost to build because it was created by the health department's IT staff.
Chief Medical Officer Dr. Lindsay Weaver said 46,000 frontline healthcare workers have registered to get the first vaccine, by Pfizer, as it arrived in Indiana this week. The state was allocated 55,575 doses of the Pfizer vaccine.
The FDA is reviewing a second vaccine by Moderna for emergency use authorization this weekend, Weaver said. The amount of Moderna doses Indiana will receive won't be known until after FDA approval.
"We ask Hoosiers to be patient while this process evolves," Weaver said. "You will get your turn to receive the vaccine."
Holcomb put his own vote of confidence in the vaccine, saying he will get it once it is his time.
With the arrival of the vaccine, state leaders continue to face challenges to the economy. The state has around $600 million remaining in federal Coronavirus Aid, Relief and Economic Security, or CARES, Act dollars to use before Dec. 30. Though state officials have advocated for extension of the funding into 2021, no action has been taken.
Holcomb said the remaining money will be allocated. Cris Johnston, Indiana Office of Management and Budget Director, said at the State Budget Committee meeting Wednesday that $400 million could go to the state's unemployment insurance trust fund with the remaining amount being used to help keep schools open. Johnston said at the governor's press conference later in the day that small businesses may also receive assistance.
Johnston said there are promising reports coming out of Washington, D.C. about an additional federal assistance package. Holcomb voiced support for an additional stimulus package to provide resources for unemployed Hoosiers.
Through the holidays, Box encouraged Hoosiers to continue practicing safe COVID-19 protocols including canceling gatherings or moving online if you or someone you know is at increased risk of severe illness from COVID-19. Box also referred to the Center for Disease Control's winter holiday guidance.
"I know this guidance is hard and yet another reminder of all that we have sacrificed in 2020, but I encourage you to think outside the box for your own family and for all those empty seats around the table this year," Box said.
The next press conference will be at 2:30 p.m. Tuesday, Dec. 22 rather than Wednesday.
Taylor Wooten is a reporter for TheStatehouseFile.com, a news website powered by Franklin College journalism students