State officials have lowered the vaccine age threshold twice within the last week while a new federal program will put teachers in line no matter how old they are.
Wednesday's weekly COVID-19 update from Gov. Eric Holcomb and state health officials looked with growing optimism toward March 6, the one-year anniversary of the first COVID-19 case in Indiana. According to Dr. Kristina Box, commissioner of the Indiana State Department of Health, the positivity rate decreased from 4.1% last week to 3.5% as of March 3. In addition, hospitalizations fell to 731 COVID-19 patients compared to 889 patients on Feb. 24. 
For more information and to schedule an appointment, click here.
"It's been a year of trials and of heartbreak for so many Hoosiers, but it's also been a year that has shown us how resilient and how resourceful we can be as a state," Box said.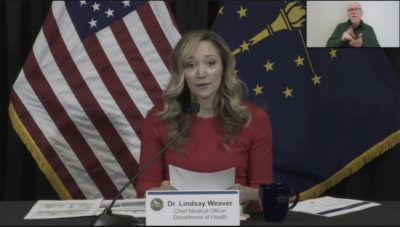 According to the Indiana COVID-19 dashboard Wednesday, up to 21,281 Hooisers had been vaccinated in the previous 24 hours. To date, 1,031,266 Hoosiers have received the first dose of the vaccine and 608,638 people have been fully vaccinated. According to Becker's Hospital Review, Indiana ranks 23rd among states for vaccinating its citizens.
Although Indiana has not made teachers eligible for the vaccine, President Joe Biden this week challenged states to vaccinate all teachers by the end of the month with assistance from the Federal Retail Pharmacy Program. Soon pre-K-12 school teachers and childcare workers, including those in Indiana, can sign up for vaccines at 9,000 partner pharmacies across the U.S.
According to CNN, 28 states have made teachers eligible for the COVID-19 vaccine. Indiana government officials have received backlash for not prioritizing teachers as an eligible group, with Holcomb saying Wednesday that once people who are 40 and older become eligible, more than 50% of Indiana classroom teachers will be able to get the vaccine.
As Phase 1-B begins, people who are 50 and older are now eligible to receive the vaccine. Additionally, individuals with certain health conditions will be eligible as a group for the first time. This group includes people who are active dialysis patients, sickle cell disease patients, people with Down syndrome and more. Those in active chemotherapy or radiation for cancer also will receive a unique link to register for the COVID-19 vaccine.
Indiana is set to receive up to 145,000 doses of the Pfizer-BioNTec vaccine alongside 128,000 doses of Moderna. The state also just received around 54,000 doses of the Johnson & Johnson vaccine, which requires just one shot for a person to be fully vaccinated.
A professor at Franklin College, Richard Erable, 56, is now eligible to receive the Moderna vaccine. He's looking forward to his appointment on Thursday and hopes to feel more at ease when going out.
"All of us can live with the fact that you might get a flu, you might get a bad cold, but you won't end up in the hospital, and certainly your risk of dying is very low. That's a lot better than what we have pre-vaccine," Erable said.
According to Box, up to 255 shipments of personal protective equipment have been shipped to critical industry businesses. Additionally, more than 530 schools have received PPE and 220 more schools will be reached by Friday.
According to Dr. Lindsay Weaver, chief medical officer for the Department of Health, mass vaccination sites will open this month at Indianapolis Motor Speedway 8 a.m.-10 p.m. March 5-7; Ivy Tech Community Tech and Sellersburg 8 a.m.-8 p.m. March 12-13; and the University of Notre Dame and Compton Family Ice Area 8 a.m. to 8 p.m. March 26-27. Hoosiers must be eligible and have their appointment scheduled.
Box said Indiana is hoping to get trusted leaders within underrepresented groups to encourage people to get a vaccine if they're eligible. It's a work in progress to get the vaccine to Hoosiers of all racial backgrounds, said Dr. Roland Walker, a Gary health officer and local pediatrician who's been working with local residents.
"There's distrust because there's been some experimentation, there's been misinformation, mistreatment in African American communities, but I'm here to tell you, I've had the vaccine," Walker said. "To protect yourself, protect your family members, loved ones, now's the time, while we have good supply and flow."
The next COVID-19 update will be at 2:30 p.m. March 10.
Carolina Puga Mendoza is a reporter for TheStatehouseFile.com, a news website powered by Franklin College journalism students.